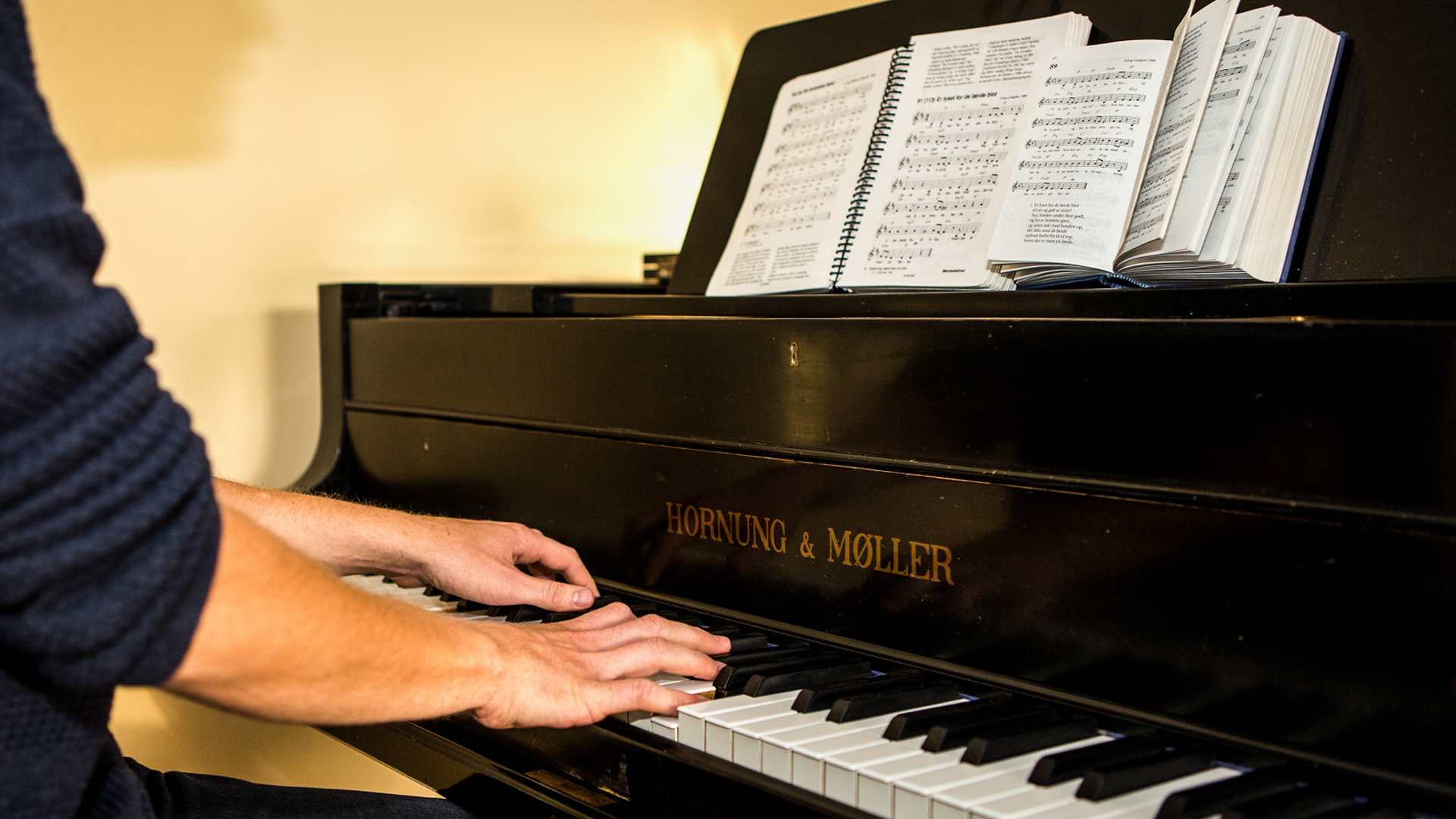 Practical classes
The practical classes are craft, practical or creative subjects, and you get a break from all the sports.
The days when the subject is in the last part of the day, you have the opportunity to continue the practical process.
Scroll down and read about the practical subjects below.
Some classes can change, as new classes are added all the time, and others are changed or closed down.
You choose your subjects at the college once you have started at the college, and we are there to advise you.
Beer brewing
Learn to brew your own beer, visit a microbrewery and impress your friends with geeky beer facts!
Would you like to learn how to brew your own beer?
In the subject "Beer brewing", we delve into a century-old culture.
In the course we look at the history and culture behind beer brewing.
We visit a microbrewery and hear about why special beer has become so popular, and you learn how to brew your own beer - from choosing beer ingredients such as malt and hops, to mashing, herbal boiling, fermentation and finally bottling the beer.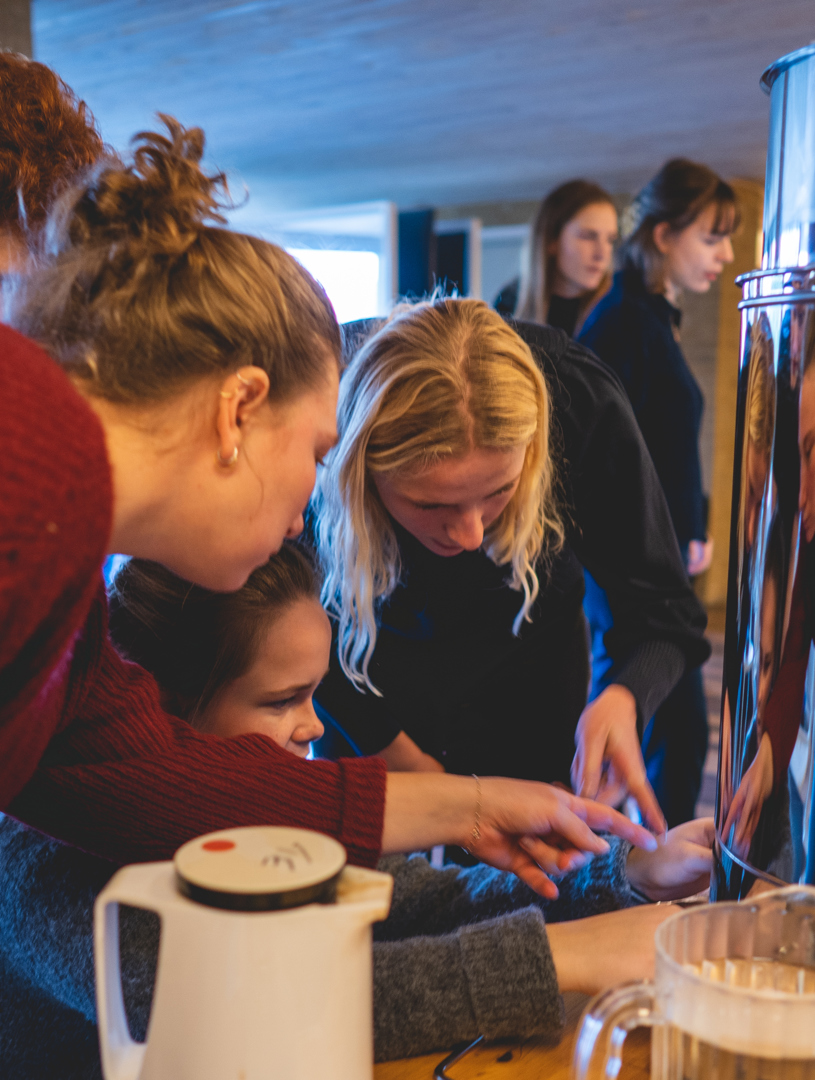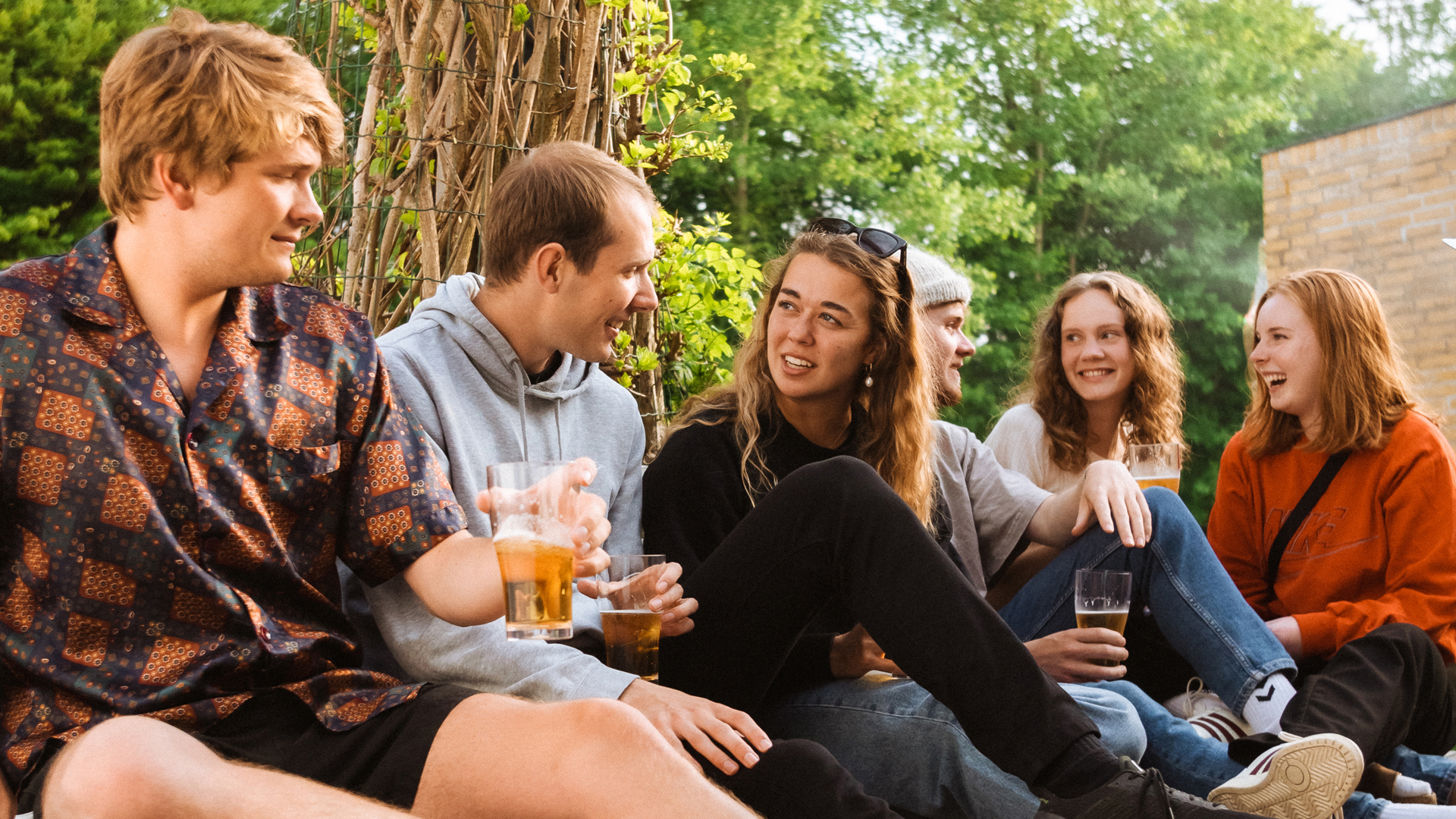 Board games
Our goals with card and board games are:
That you get an insight into and perhaps expand your repertoire of games

To create a space for presence, conversation and social interaction, based on current and relevant games, to highlight different experiences such as;

winning mentality, presence, joy, frustration, tactics, cheating, holding and diplomacy

as well as relating it to everyday situations.
You get to play a lot, and learn the rules of current games.
There are many hidden treasures hidden in playing board/card games: togetherness, tactics and strategy, logical thinking and teamwork, diplomacy, and social skills.
Clay workshop
We will work with various basic techniques.
When you know them, you can create, play and sculpt your lump of clay into almost anything – in playing with clay there are unimaginable pasts and possibilities.
Some of the things that are made are bowls, cups, vases, etc.
The students are involved in the entire process – from the lump of clay to the finished product, such as is a glazed, fired cup, with its very own distinctive character.
Who knows - maybe there is a hidden potter in you!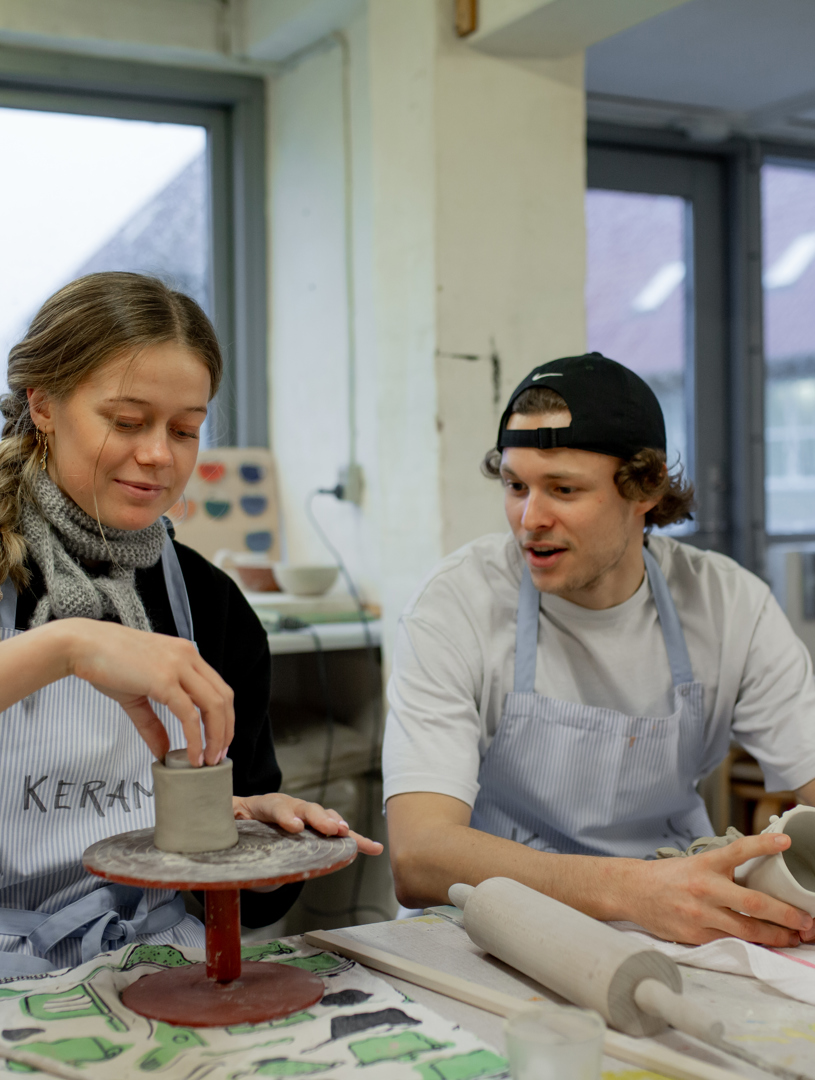 Cooking
Good "everyday food" for cheap money, is a workshop where we prepare classic Danish and foreign dishes as well as exciting accessories.
We prepare the food from scratch and learn the most common cooking methods. We think of economics and health, and at the same time we use the time to learn how to recycle residues to avoid a huge food waste.
In short – become a better cook in your own kitchen!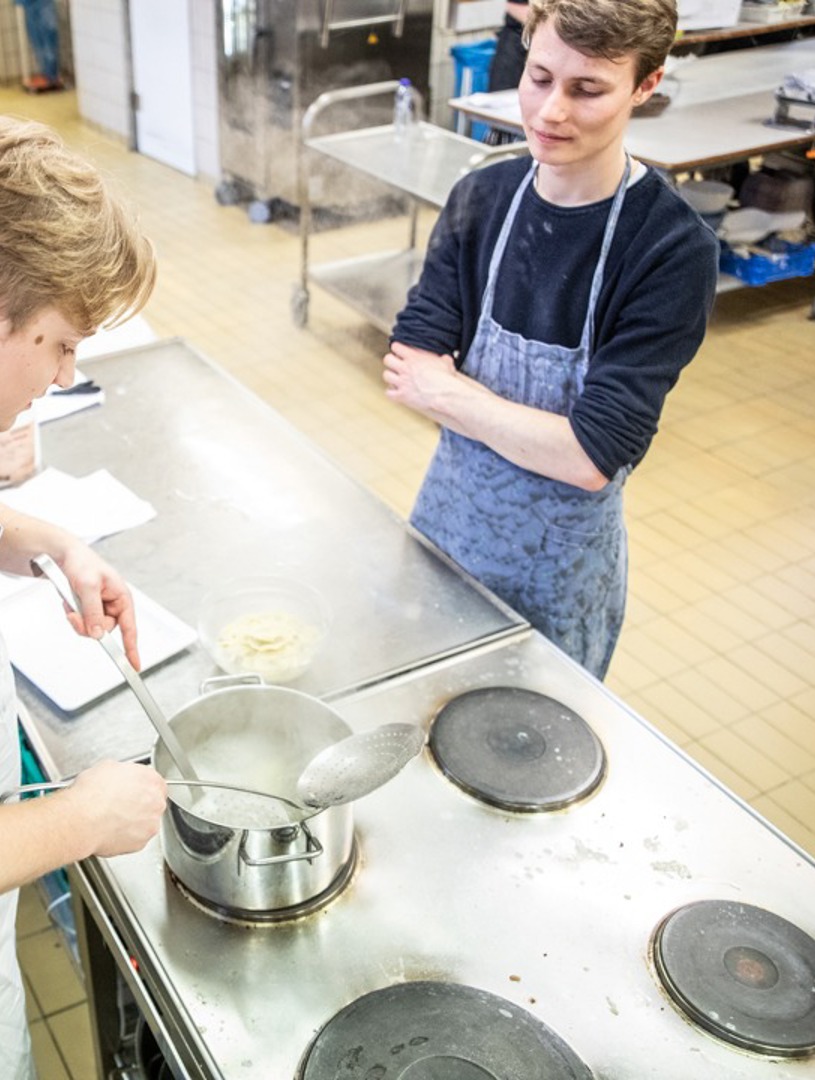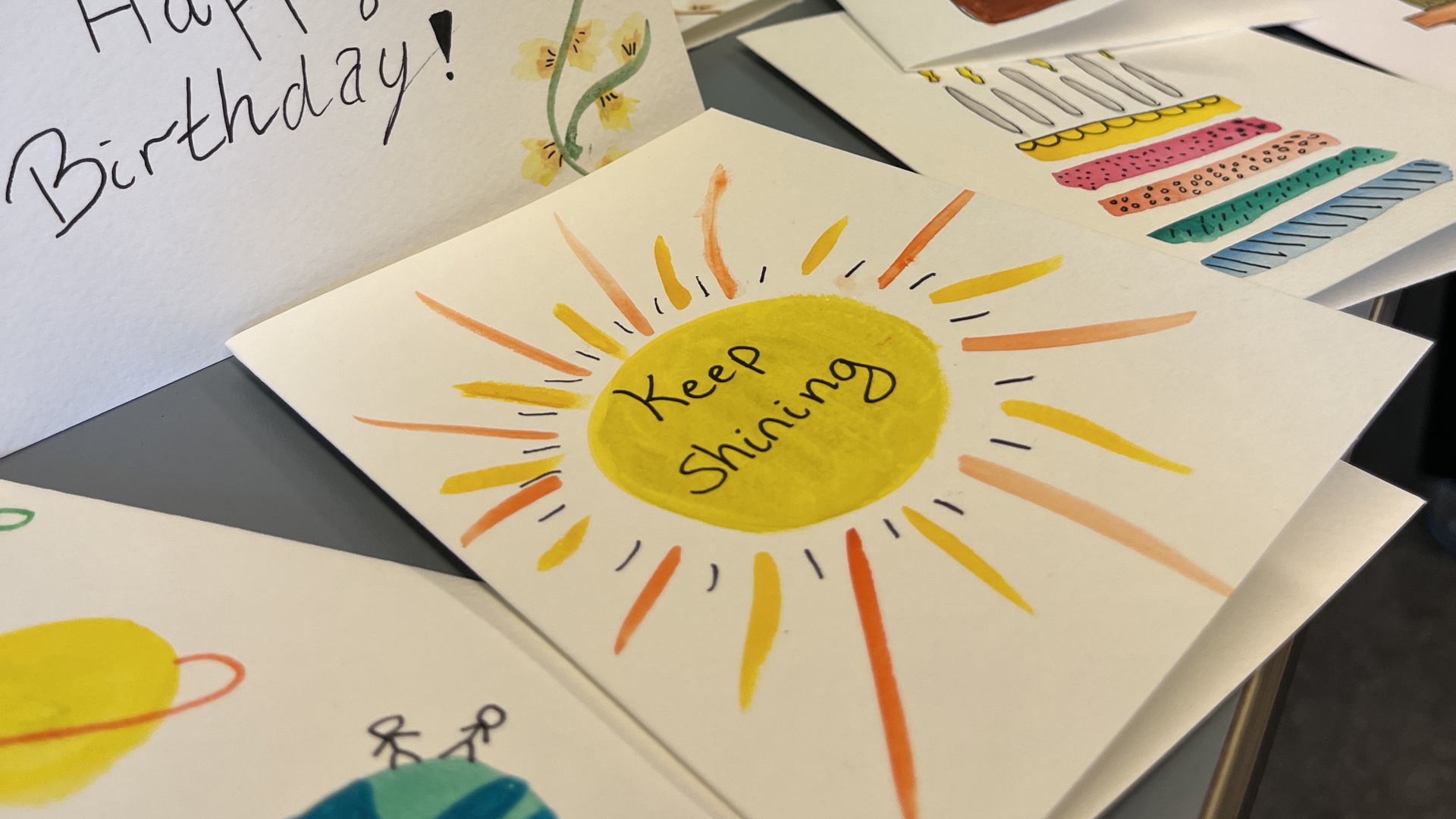 ConCreation
Creativity and Construction is the headline in theese classes.
We must try to think creatively in the use of different materials – we are going to create and construct. The starting point for the subject is that, with cheap available materials, we need to manufacture items of use that you need. It may be old cans, drift timber or items from the recycling shop that you can transform or recreate for something new and useful. A popular material that we may use is concrete. You can, for example, transform a leg from an old chair and a sauce bowl into a lamp?
You must cover the expenses that you incur when purchasing materials, fabrics, paint, furniture and other items that are used for your projects.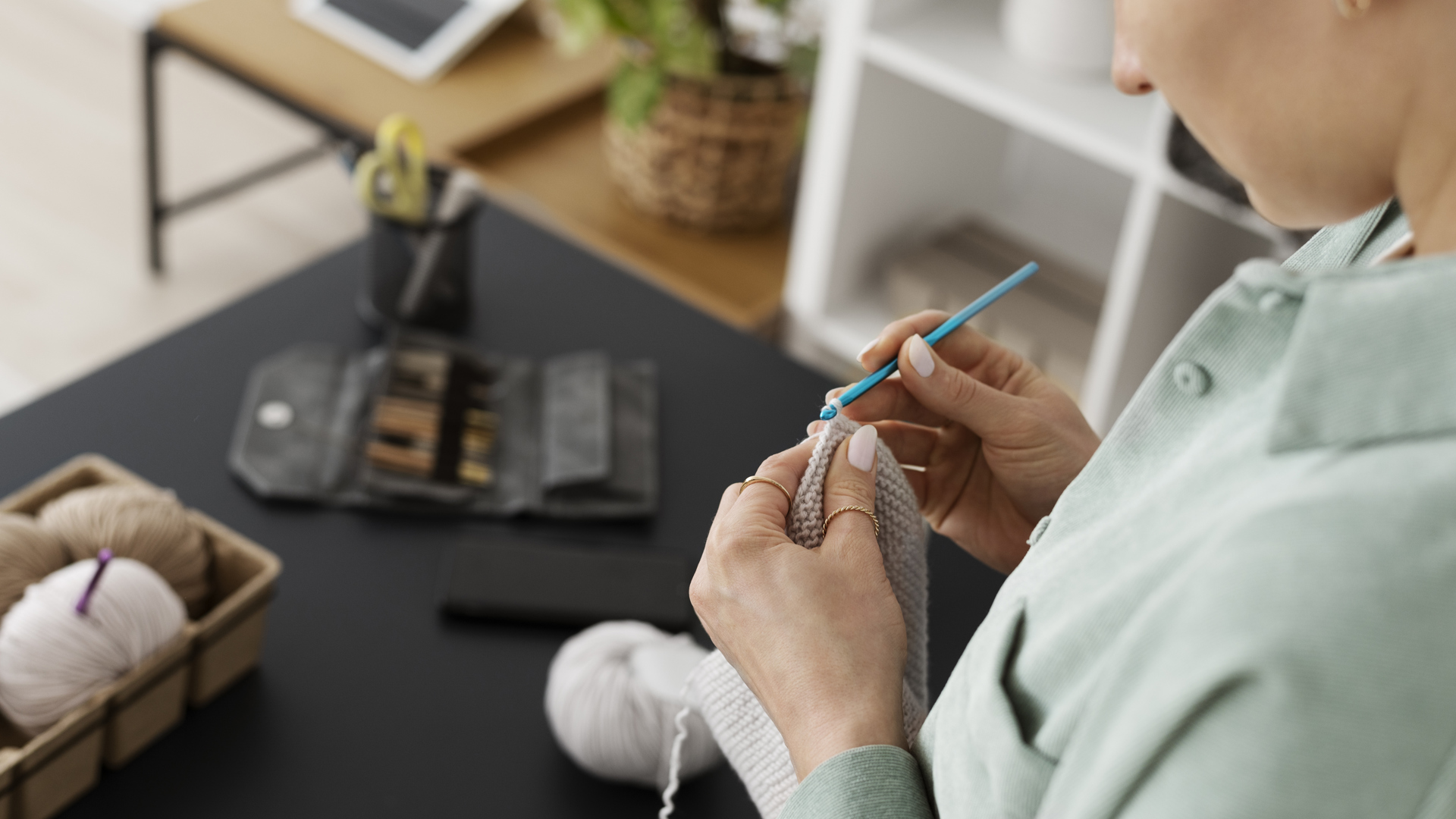 Crochet
In Crochet we will work with everything from simple crochet projects to more complicated patterns.
We will develope our repetoire of different types of masks – from basic chain masks, whole and half bar masks, mussel and waffel patterns. 
Everyone can participate – both beginners and practioners. Potholders, babyclothes, purses and bags, ponchoes, teddy bears and dishclothes are just some ideas – it's only the immagination that sets the limits.
You pay the costs for materiels yourself.
Guitar for beginners
We start from learning the most basic chords on the guitar.
Then we work quietly forwards.
The repertoire ranges from children songs to different rhythmic songs – of course we are singing too! The school owns a number of guitars you can borrow.
We end up playing a couple of songs for the other students.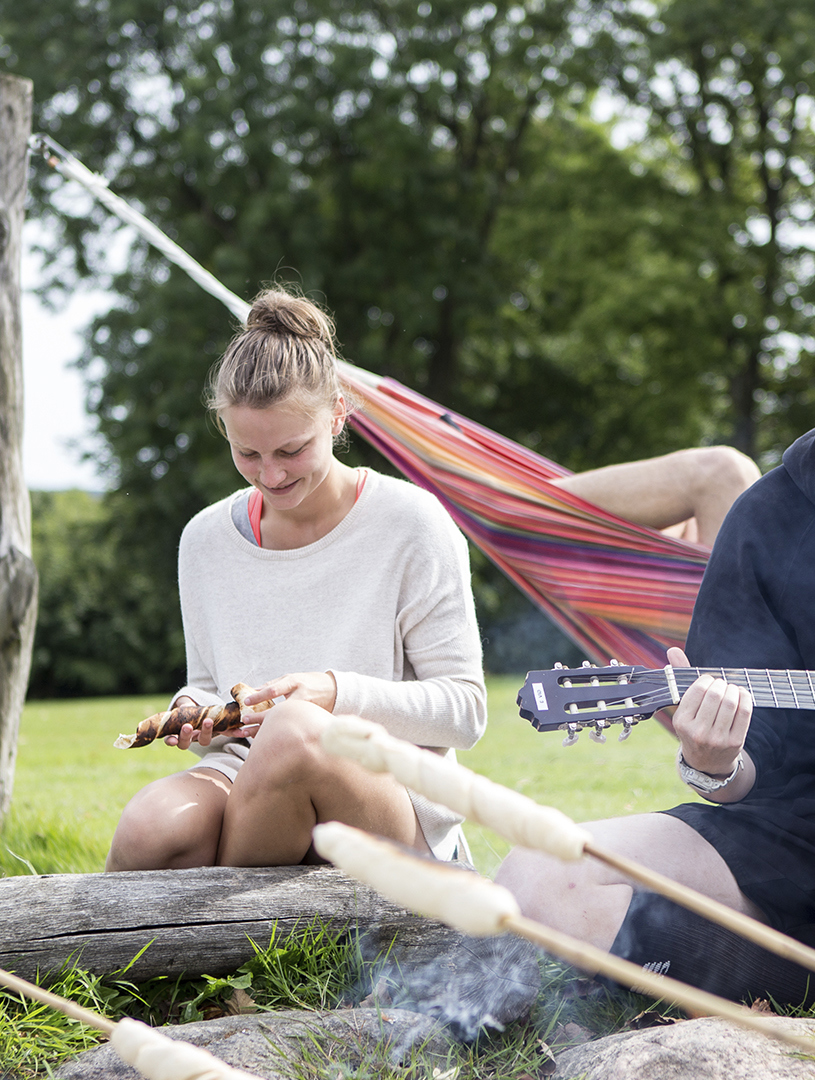 Knife Workshop
Make your own personal knife!
It is not every day that you have the opportunity to make your own knife. It is possible here…
You need to make your own personal shaft that fits exactly to your hand.
You also need to sew your own spoon to the knife. We cheat a little bit when it comes to the blade. Either we recycle an old blade or we buy a new one, as we cannot reach do make both blade, shaft and sheath.
You get your very personal knife and if you take good care of it, you have the knife for the rest of your life!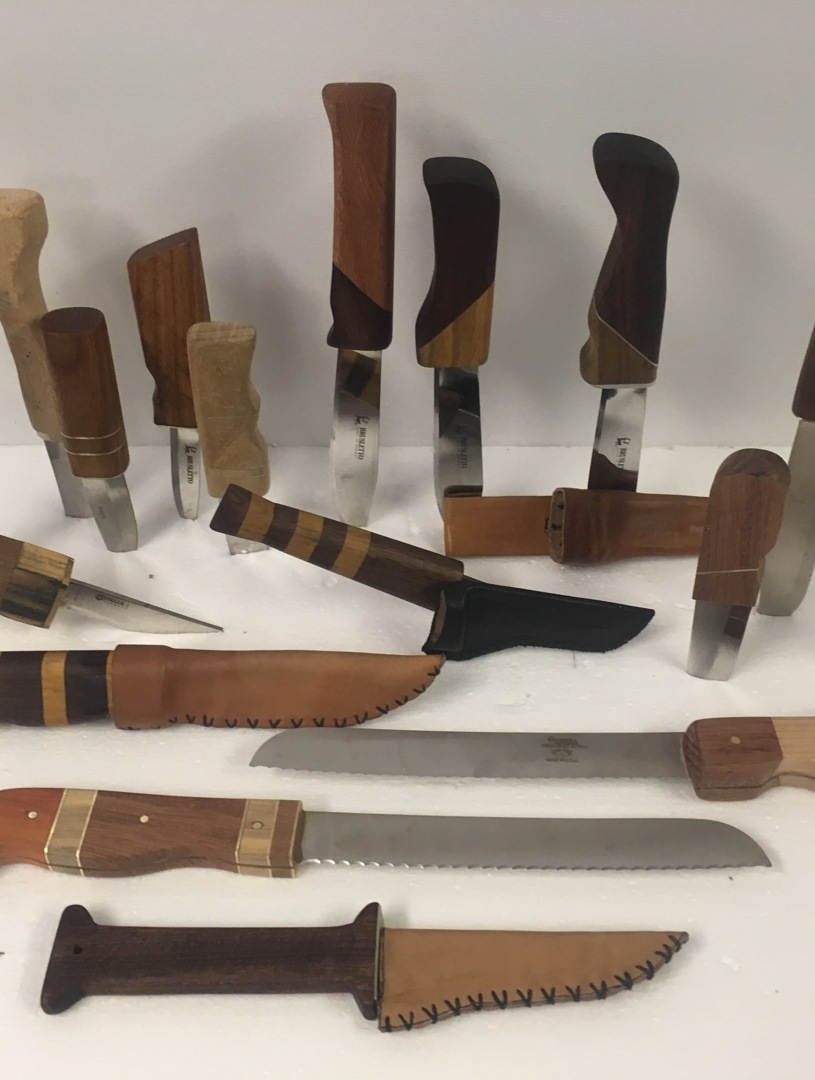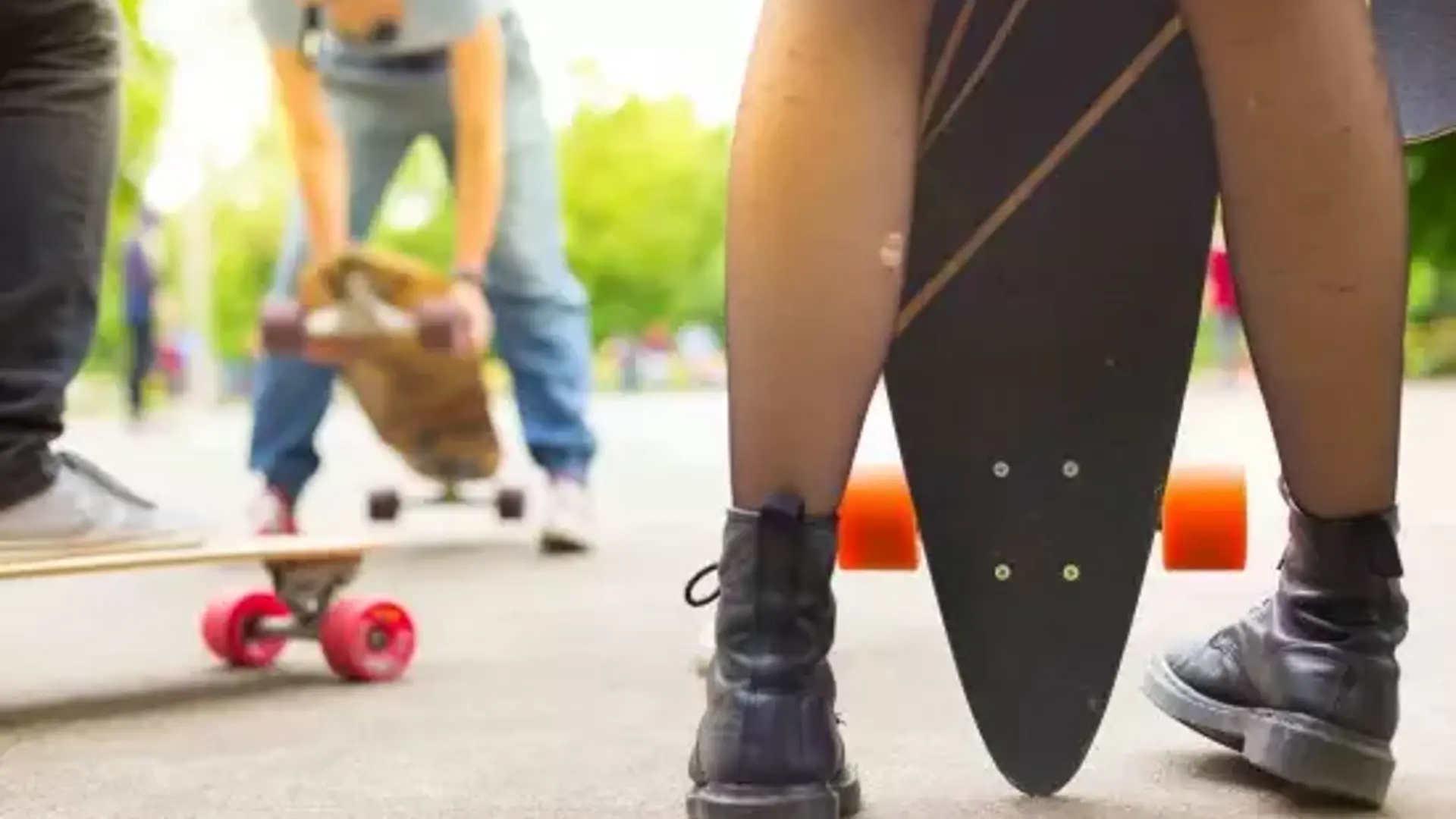 Longboard
Street respect when you have your own longboard…
– which you have even made yourself…
You must create your own personal longboard, showing who you are, your design and craftmanship skills… and the result should give you a board so you have the opportunity to cruise and make tricks.
You shall pay for the materials yourself.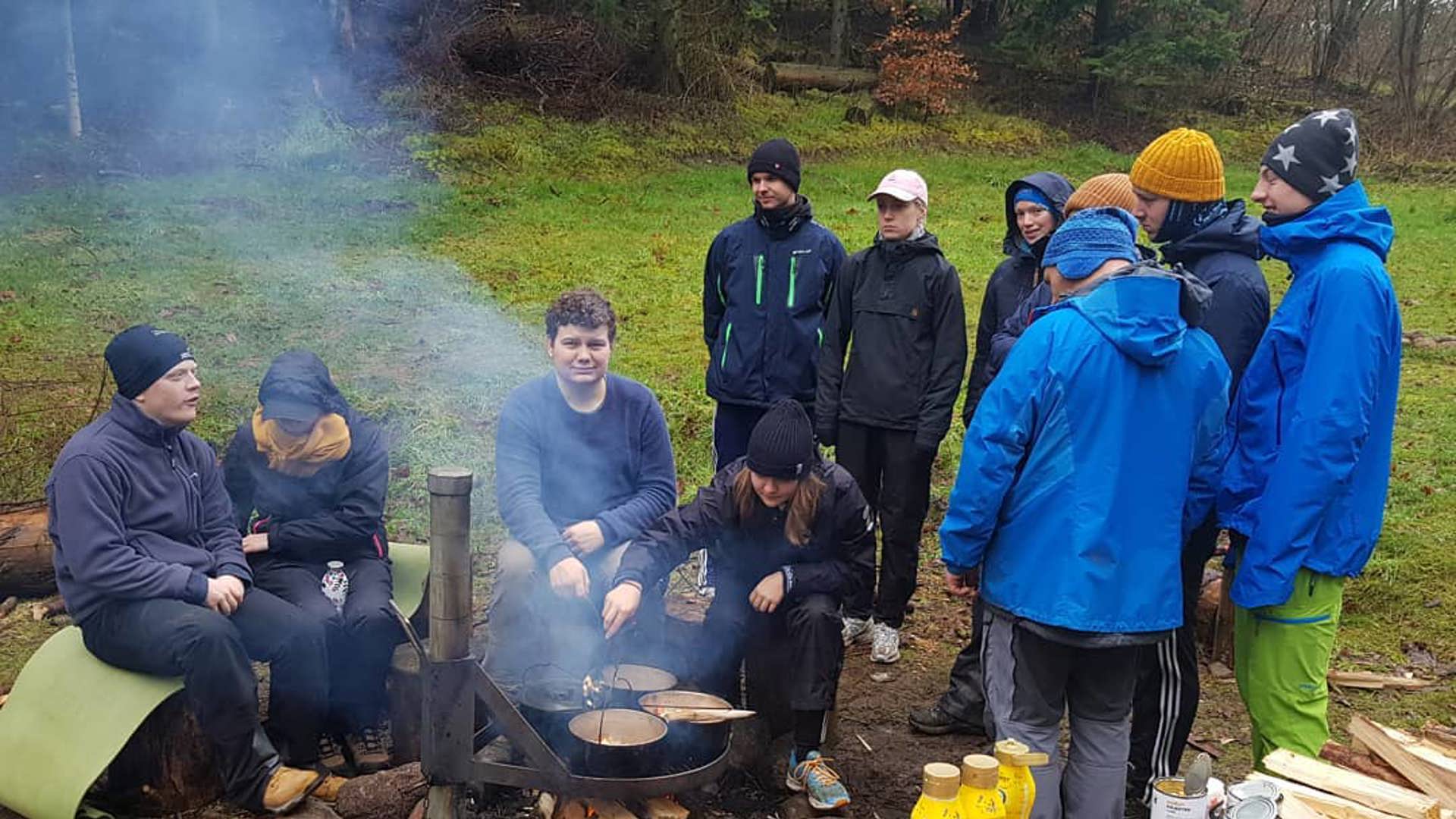 Outdoor living
Outdoor living is:
- to cook on open fire – it's high-level gastronomy as well as creative cooking methods
- to make a bivouak which is warm enough
- to make an "outdoor" sauna – then we can swim in the lake to cool daown and get warm in the sauna afterwards
- to make a rice boat and sail on the lake
It's all about using the nature and enjoying being in it.
There will be a small selfpayment.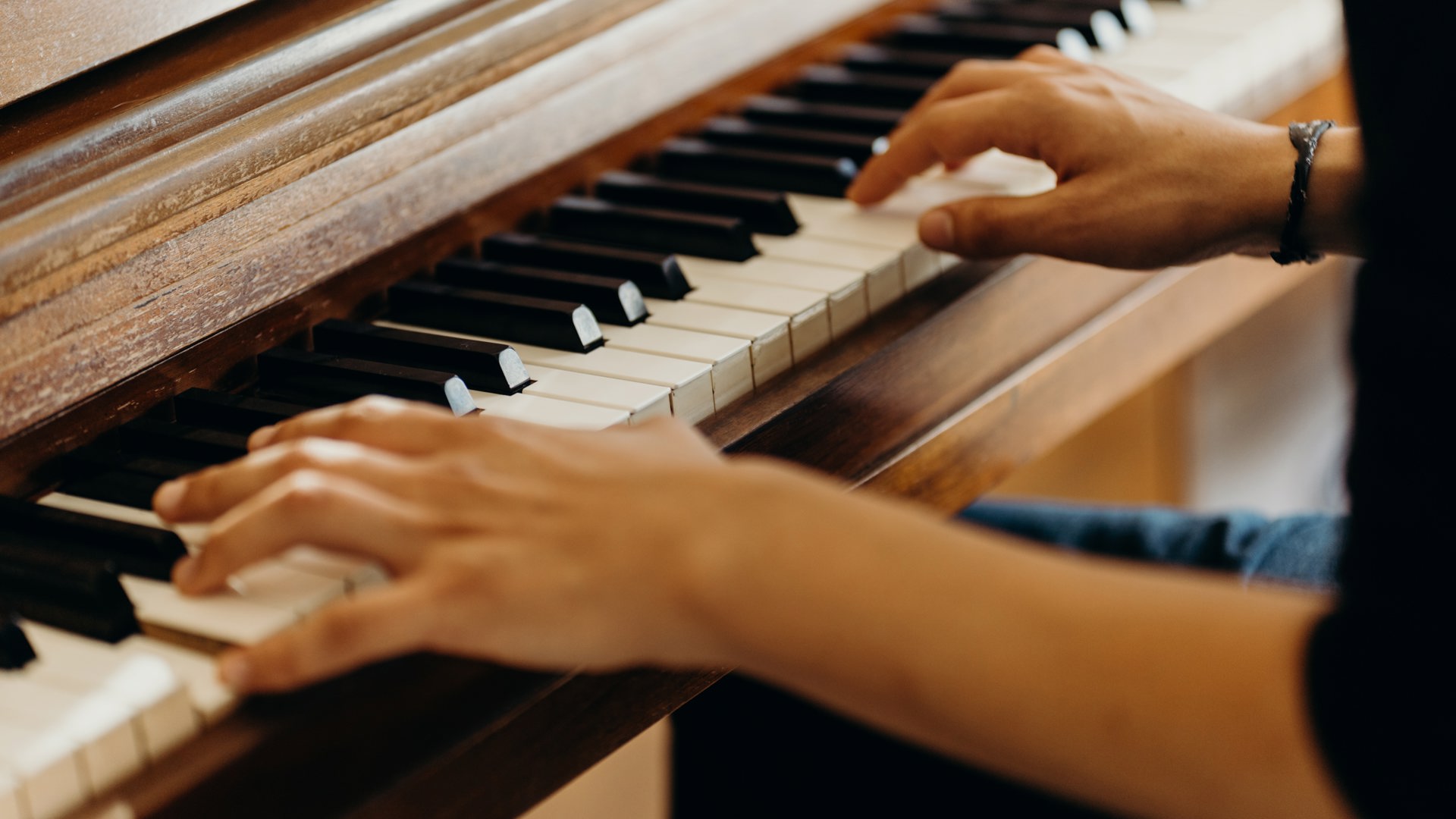 Piano for beginners
Piano for beginners is for you who want to learn chords on the piano - we start from the very beginning, so you don't need to have played before or be able to read music notes.
Along the way, we will probably learn some sheet music if the team wants to.
Our main focus is chords and being able to play different styles – and use different rhythms in the right and left hand.
The goal is to be able to accompany yourself and others in group singing...
Ukulele
We offer Ukulele for beginners, where you learn to play together.
The ukulele is a small but quite fun and fantastic instrument...
The ukulele is a great beginner's instrument, as the chords you have to play are not that difficult to learn, and you can quickly get started on some songs.
In addition, the instrument is small and handy to bring with you.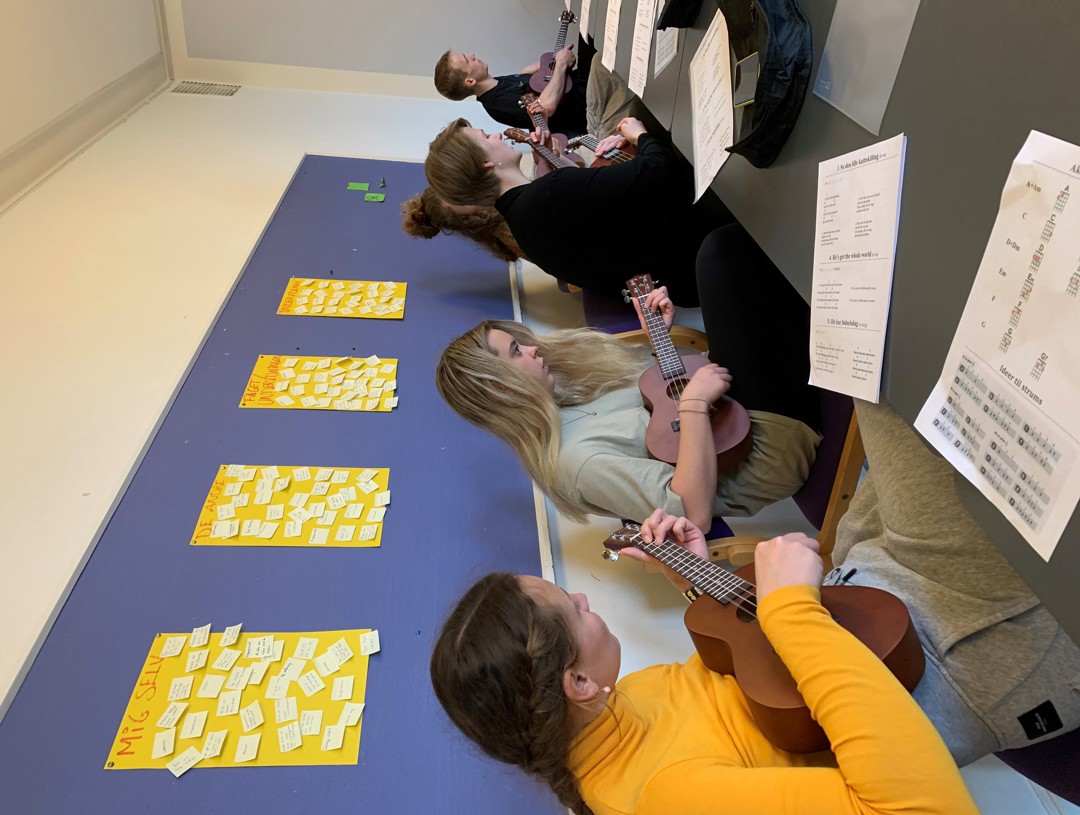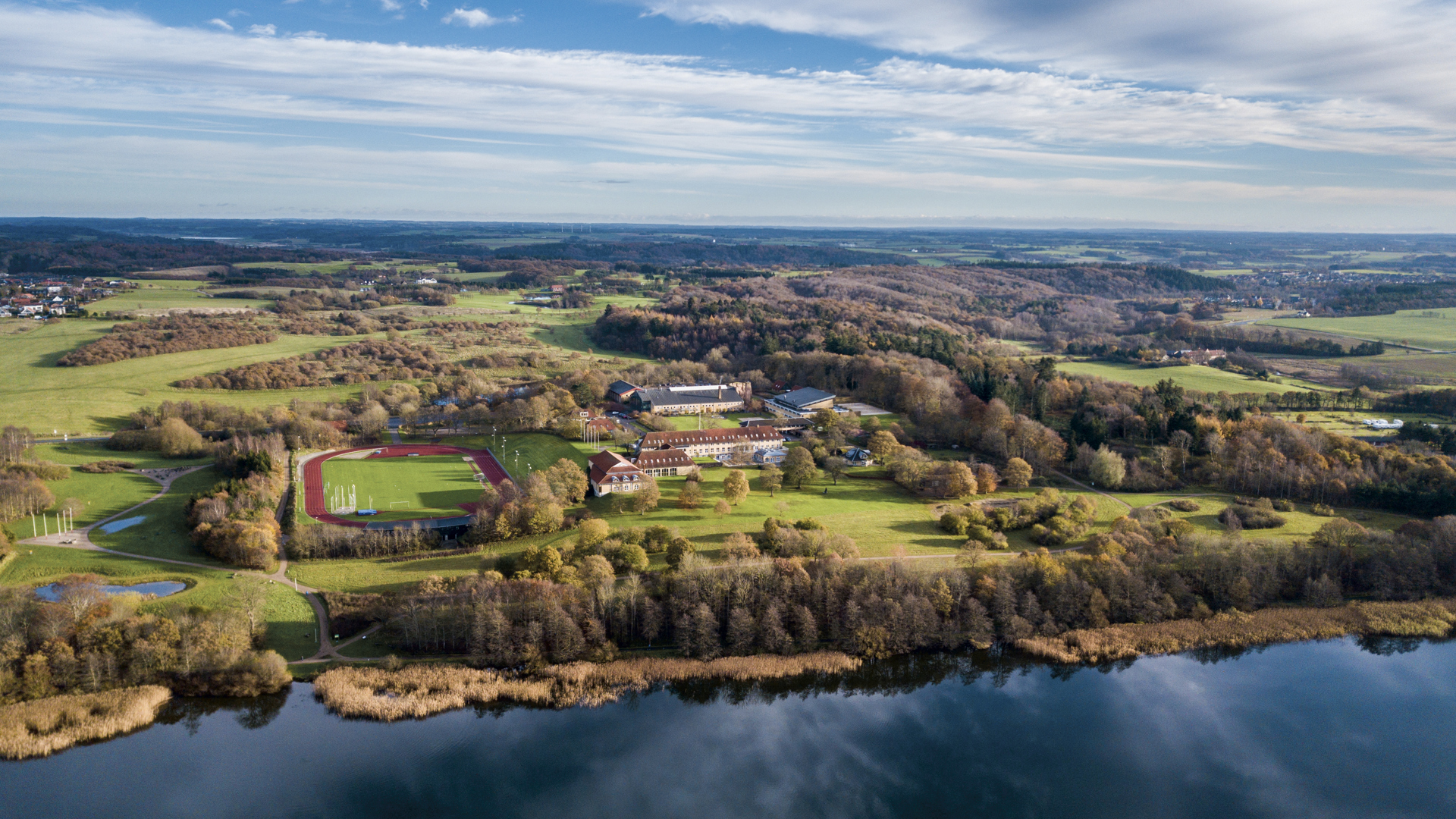 Utility garden
Find your inner joy of gardening!
We will look into the future in a more sustainable and climate-friendly way.
Topics such as permaculture, wildlife, native plants and much more will be taught.
In practical terms, we have to create small oases around the school, where the students themselves plant trees, bushes, herbs etc. as well as building birdhouses, insect hotels, watering holes, etc.
We use nature's food pantry and must, among other things, learn to preserve, by pickling, drying, making juice, etc.
Visual communication
In Visual communication we find out how to take the good Instagram picture, tell a story or communicate a mood through the pictures and movies. We balance the technical with the thematical, so by a given topic, there must be focus on perspectives, angles, light, editing etc.
This way you can make the most of the photos you take, make the most of the movies you shoot and find out how to optimize your editing options.